Today's digital environment necessitates having an online presence for any business. So, when setting up an ecommerce website, choosing an appropriate platform is of critical importance. Shopify and Magento are two top choices offering various features and functionalities – but which is better? 
Here in this post, we present an in-depth comparison between Shopify and Magento to assist your decision on website development needs.
Overview of Shopify:
Shopify is a cloud-based e-commerce platform which enables users to effortlessly set up and manage online stores with minimal technical expertise required. Featuring user-friendly navigational controls and preloaded features that simplify store creation and customization processes.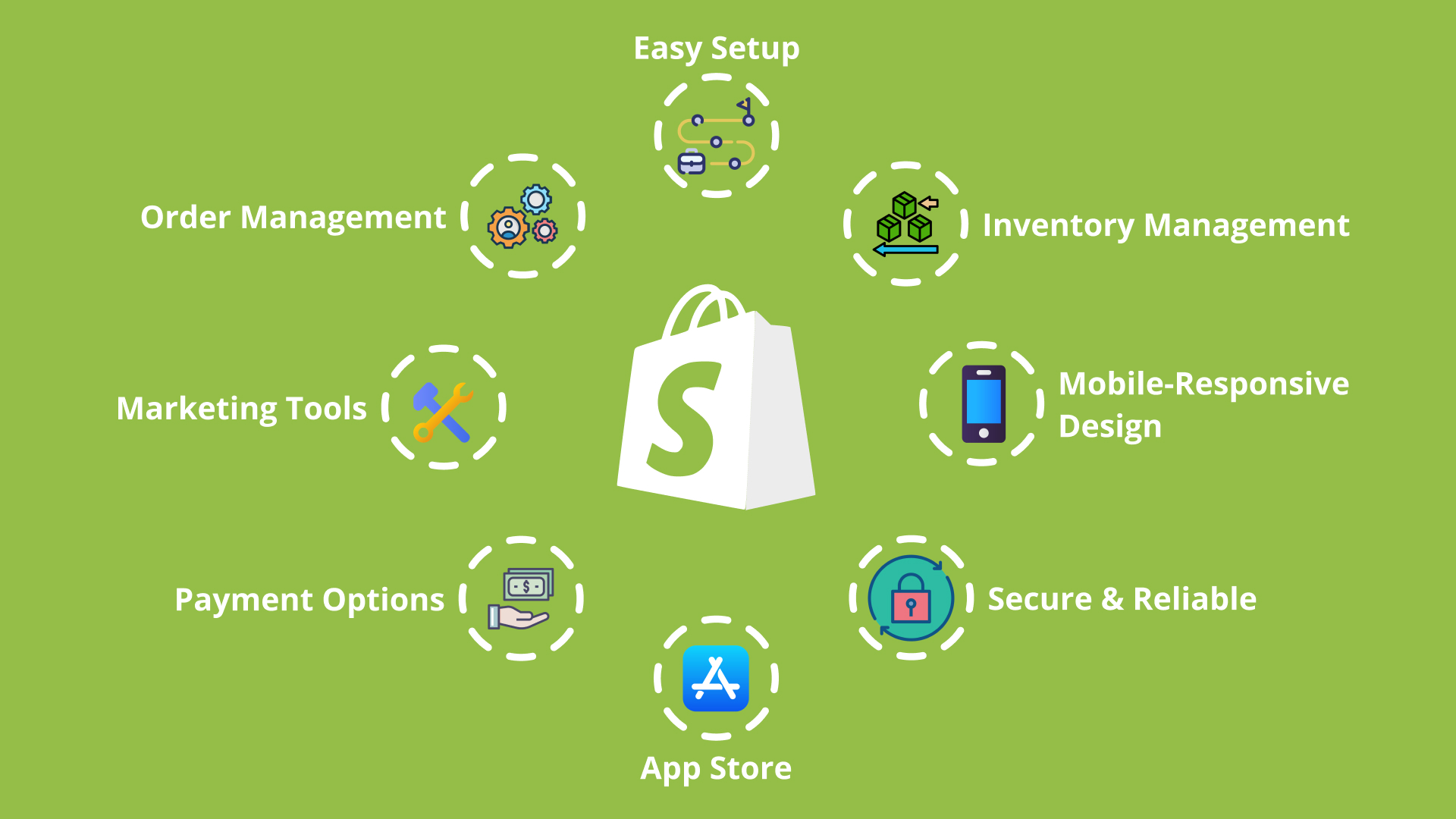 Features and Capabilities of Shopify:
Easy Setup:

Shopify is designed for quick and effortless setup, offering users an easy process that lets them create online stores quickly. Shopify provides users with access to professional templates they can tailor specifically for their brand's aesthetics and needs.

Mobile-Responsive Design:

With more customers shopping from mobile devices than ever before, having a website designed with mobile responsive themes that ensure an effortless shopping experience on any device is of utmost importance. 

Shopify ecommerce website

offers mobile responsive themes designed specifically to create this seamless shopping experience across devices.

Secure and Reliable:

At Shopify, security is of utmost importance and with its built-in SSL certificates, your customers' data can rest easy knowing it will remain protected.

Payment and Shipping Options:

Shopify offers multiple payment gateways, making purchases straightforward for customers and offering efficient management of shipping processes for you and your team. Furthermore, integrated shipping features help manage this aspect more effectively than with competing platforms.

App Store

: Shopify's robust app store is filled with useful plugins and extensions designed to increase functionality in your online store, from marketing tools to inventory management services – everything needed for success can be found within it!

Inventory Management:

Get robust inventory management features, making it simple for businesses to easily track and control their product inventory. It brings you attributes like stock level monitoring, automatic updates to inventory levels and low stock alerts to ensure you never run out of product stock.

Order Management:

The order management system feature helps businesses efficiently fulfil customer orders with attributes like customized statuses, order tracking, and automated confirmation emails to streamline order fulfilment processes.

Marketing and SEO Tools:

Shopify helps businesses with an assortment of marketing and SEO tools. These tools are designed to attract more customers and drive sales, such as SEO optimization, email marketing campaigns, social media integration, and discount code creation.
Overview of Magento:
Magento is an open-source e-commerce platform with exceptional levels of customizability and flexibility that's well-suited for businesses that have complex requirements or technical expertise.
Features and Capabilities of Magento:
Customization:

Magento provides unparalleled customization options, enabling users to build unique online stores tailored specifically for themselves. With access to its source code and access control permission granted for every aspect of its store.

Scalability:

Magento was specifically created to accommodate large and complex 

eCommerce websites

with high product volumes, transactions and traffic volumes – perfect for companies experiencing rapid expansion.

SEO-Friendly:

Magento comes equipped with built-in SEO features designed to increase website visibility in search engine results pages and increase organic traffic to your website. These capabilities include optimizing meta tags, URLs and other elements of a webpage in order to bring in additional organic visitors.

Multi-Store Management:

Magento allows businesses with multiple brands or international operations to manage multiple online stores from a single admin panel, making life simpler for operations managers and store administrators alike.

Community Support:

Magento provides access to an active community of developers and users that provide assistance when necessary and contributes to its ongoing development, guaranteeing you resources when required.

Advanced Marketing and Promotional Tools:

Magento offers businesses advanced marketing and promotional tools to attract and engage their target customers, such as discounts, coupons, upsells, cross-sells, and personalized product recommendations.

Robust Order Management:

Magento provides robust order management capabilities, enabling businesses to efficiently process orders by managing order tracking, customer notifications, inventory control and integration with shipping carriers.

Mobile-Friendly Design:

Magento provides mobile-friendly designs which ensure websites built using this CMS provide optimized browsing experiences across devices. This ensures a great customer journey from mobile browsing to desktop browsing.
Pricing Comparison between Shopify and Magento:
Comparison Of Shopify and Magento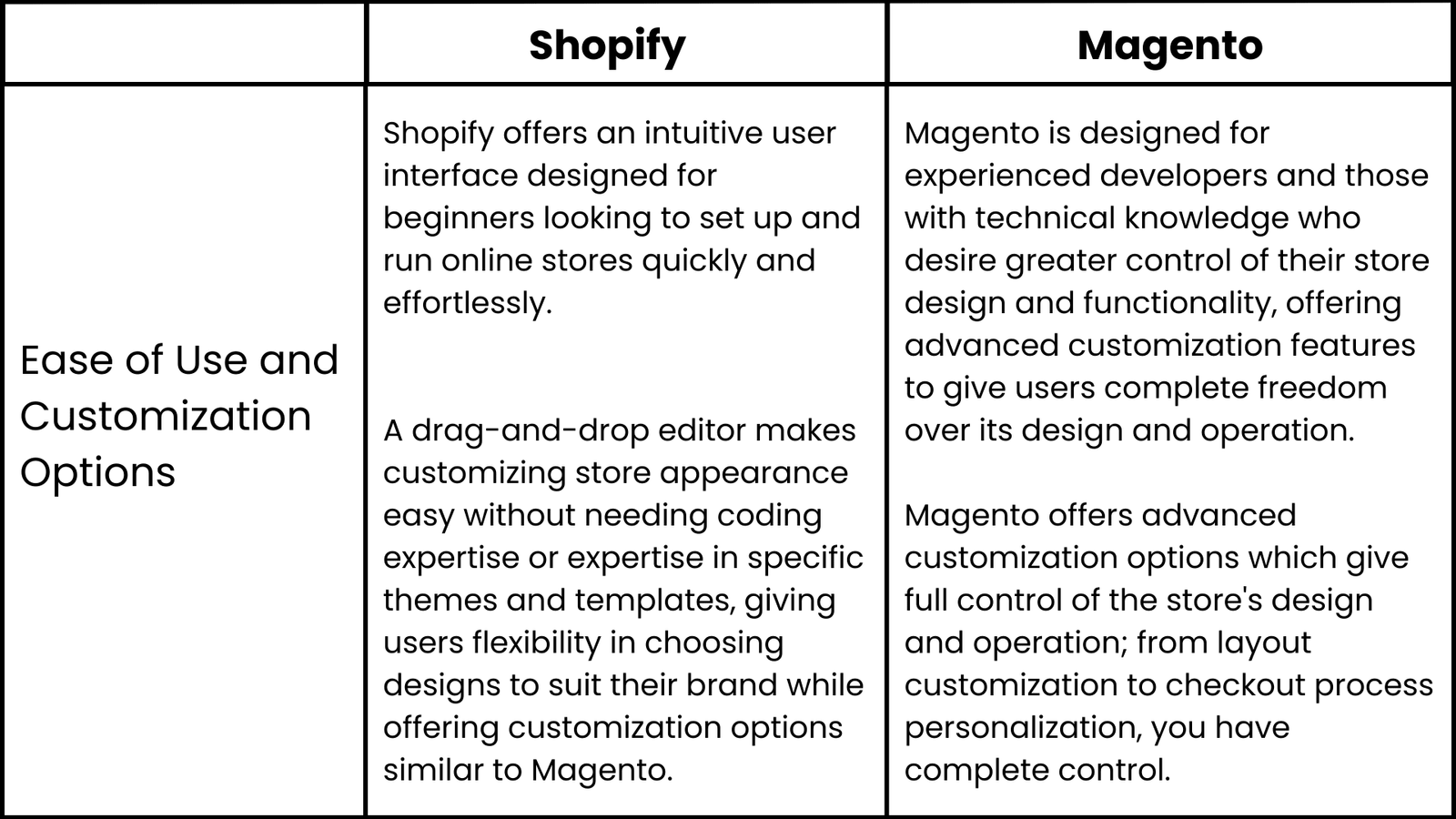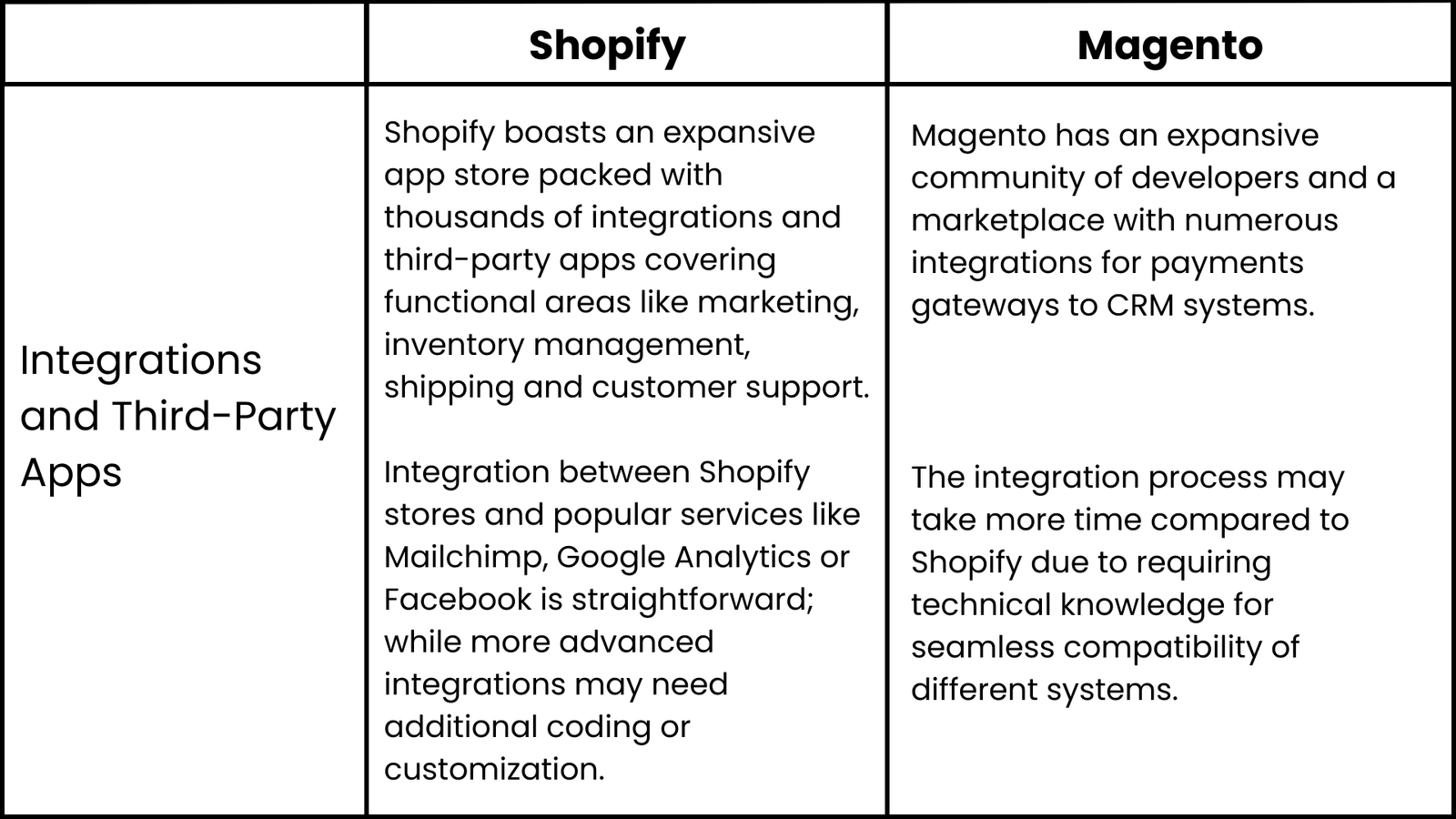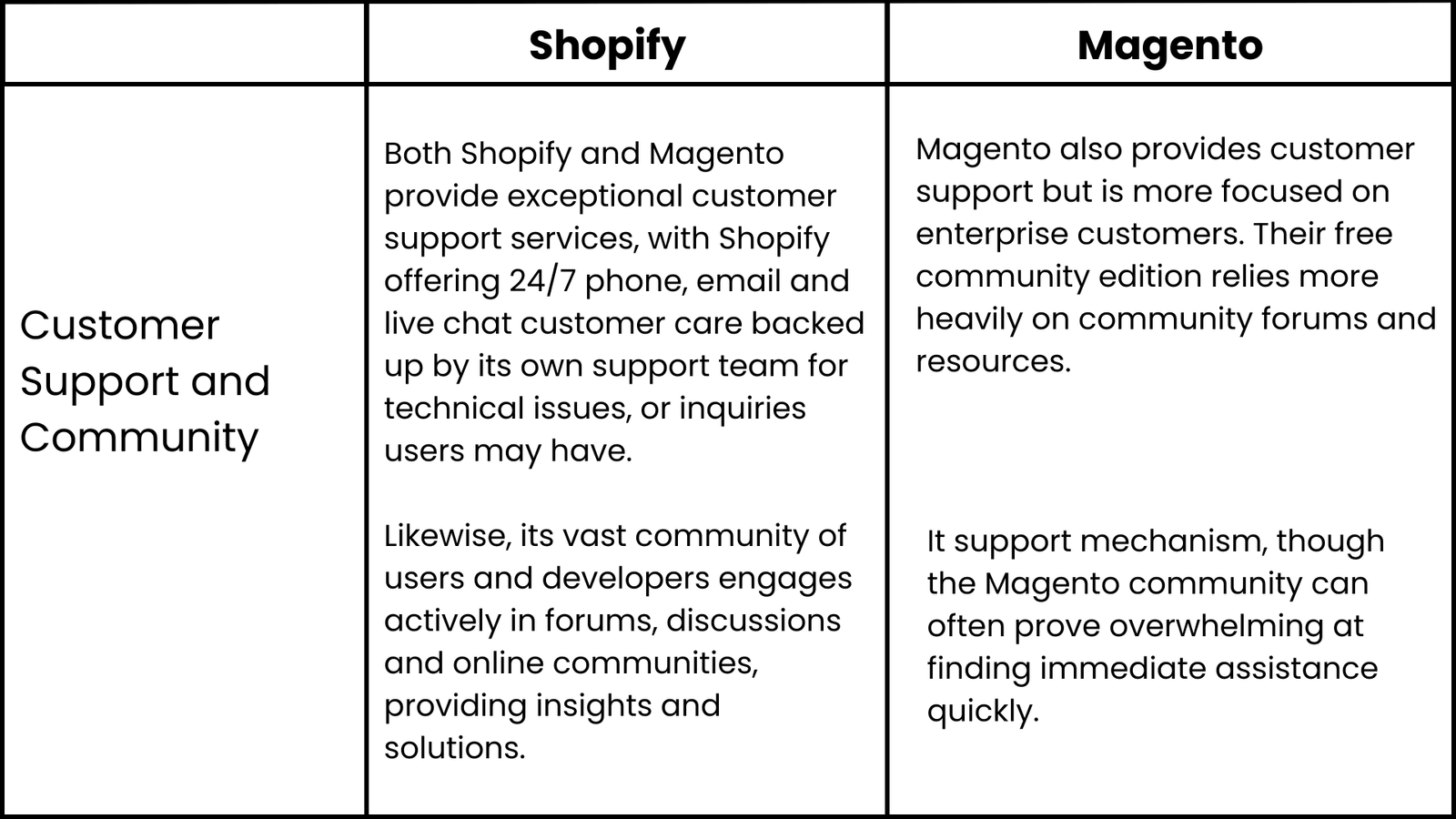 Case Studies and Success Stories:
Shopify and Magento are each host to an impressive portfolio of successful businesses that have thrived using their respective platforms, with Shopify boasting high-profile companies like Kylie Cosmetics, Gymshark, and Allbirds being just three notable success stories that show its scalable nature – these brands have grown from being small businesses into industry giants!
Magento stands out as an enterprise-level e-commerce solution capable of accommodating complex websites at scale, such as Nike, Ford and Coca-Cola's websites. They all utilized Magento's robust features and customization options to develop high-performing sites using unique designs with Magento as a foundation. These case studies demonstrate its capability of meeting enterprise-level requirements for businesses with extensive product catalogues and global operations.
Making the Decision: Which Platform is Right for Your Business?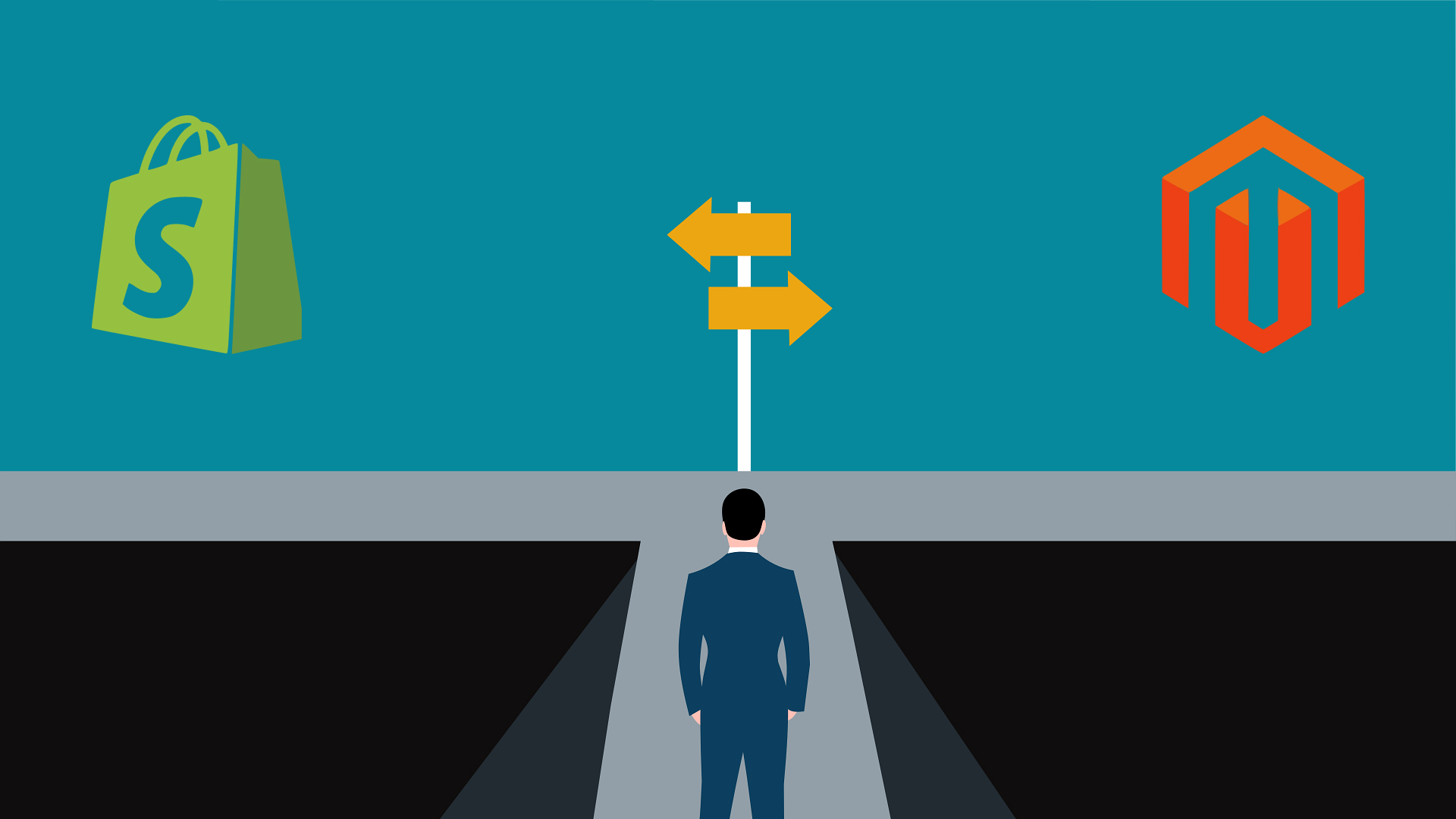 Shopify development services provide small to mid-sized businesses an intuitive platform with simple setup and management for an easier online presence, featuring customizable themes and templates created especially to attract those without technical skills. Furthermore, its secure hosting solution eliminates any additional services altogether.
Magento, in contrast, is better suited for larger enterprises or those with complex e-commerce needs. With extensive customization options to create one-off sites quickly and an open-source architecture enabling developers to adapt and modify it accordingly, Magento comes with a higher technical learning requirement which must be managed effectively for the best performance.
Conclusion
So, this shows how Shopify and Magento are top-notch ecommerce platforms available for businesses worldwide. Shopify excels when it comes to: 
user-friendliness 

support for new merchants

setup procedures and

 the overall setup experience
while Magento tends to work better for larger enterprises with complex requirements and extensive customizability needs.
Your decision between Shopify and Magento depends on your company's specific needs, budget and technical knowledge. Before making an informed choice between them, it's wise to thoroughly assess both platforms with regard to case studies, success stories and advice from an ecommerce website development company to reach an informed conclusion that works with your overall goals for growth and sustainability.