Are you finding it challenging to hire developers from India for your business? Are you considering outsourcing developers from India instead?
India has quickly become an attractive location for software development due to the availability of highly talented developers at competitive rates, making India an appealing option when companies experience pandemic issues or require remote work solutions. Businesses today often turn to remote solutions after pandemic outbreaks occur.
Many have found hiring remote developers from India an appealing alternative solution for many reasons.
If you are searching for remote developers from India in 2023, then you have certainly landed on the right page. In this article, we will outline all the aspects that you need to take care of when you hire dedicated remote developers from India. So, let's dive right in.
Why Should You Hire Developers Remotely?
Hiring remote developers offers several advantages for businesses. First, hiring remotely increases access to highly skilled talent from around the globe; thus increasing cost savings and productivity. Second, flexible schedules enable faster project turnaround time as different time zones are accommodated more easily by remote workers. Thirdly, remote work may increase job satisfaction while simultaneously decreasing turnover rates by giving more control to developers over their work-life balance; finally it reduces overhead expenses associated with maintaining physical office spaces such as rent or utilities costs.
Hiring Dedicated Remote Developers Models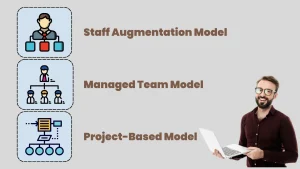 As more businesses embrace digital transformation, demand for mobile app solutions has skyrocketed. To stay ahead of the competition and meet deadlines efficiently, companies need dedicated developers capable of producing high-quality products under tight schedules.
Unfortunately, not every organization can hire full-time in-house teams. This is where remote dedicated developers come into play. There are three models to hire dedicated developers remotely, and we have them covered for you below. Check them out:
1. Staff Augmentation Model
It is considered to be one of the most popular models for hiring remote developers. This model involves hiring dedicated remote developers as an extension of their in-house team, who take on specific tasks or projects under the direction of the project manager. Staff Augmentation provides businesses that need quick scalability without incurring training costs to access specialized skills quickly and cost-effectively.
2. Managed Team Model
In this model, companies hire an exclusive remote team of developers dedicated to working exclusively on their projects and overseen by a project manager to deliver work both timely and within budget. Managed teams offer greater flexibility and control as the remote team becomes an integral component of the development process of the business.
3. Project-Based Model
This model goes just the way it's named. In this model, businesses employ remote developers solely focused on one project or event at a time for its completion and final product delivery. Project-based models allow businesses to save costs while speeding up turnaround times by hiring remote developers who specialize solely in that one particular endeavour or event.
So, employing remote developers is an efficient and cost-effective solution to accessing specialized skills and staying ahead of the competition. Staff augmentation models work best for short-term projects, while managed team models allow greater control. Project-based models may be best used as one-off tests or pilot programs. So, it is important for businesses to choose an ideal model for their web and mobile app development needs projects and that too without facing any budget constraints.
Steps To Hire A Dedicated Remote Developer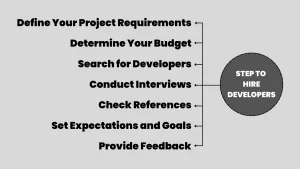 No matter if you hire mobile app developers or web developers, having an ideal candidate involves several key steps that must be followed to find someone suitable. Here we outline those steps so you can hire dedicated remote developers.
1. Define Your Project Requirements
Before searching for a remote developer, it's crucial to establish your project requirements clearly. This should cover aspects like its scope and timeline as well as any special skills or experiences desired in a developer. Having this understanding in place will enable you to narrow your search to find just the right individual developer for the job.
2. Determine Your Budget
Once you've identified your project requirements, the next step should be identifying your budget. Hiring an external developer can be cost-efficient but be sure to set aside sufficient funds in your account for their services; factoring in experience level as well as complexity into consideration is vital when setting this figure.
3. Search for Developers
Now that you understand your project requirements and budget, the time has come to begin your search for developers. There are various platforms where remote developers may be found, including job boards, freelance marketplaces and social media channels. Be on the lookout for experts with experience working within your industry and possessing any required specialization or skill sets.
4. Conduct Interviews
Once you've identified potential candidates, the next step should be conducting interviews to ask pertinent questions regarding experience, skills and approach to development. Make sure to ask about specific technical abilities as well as evaluate communication abilities to determine whether a potential hire fits in well with your project.
5. Check References
It is imperative that when you hire a dedicated remote developer, their references be thoroughly scrutinized to get an understanding of past performance and reliability. Request references from previous clients or employers of the developer in question so you can gain an idea of their work ethic and professionalism.
6. Set Expectations and Goals
Once you've hired a dedicated remote developer, it is critical that expectations and goals be set clearly and precisely. This should include outlining the scope and deadlines of the project while setting communication protocols between all involved. Furthermore, outlining expectations regarding work performed by developers as well as setting regular check-in points to ensure everything remains on schedule is also essential to its success.
7. Provide Feedback:
At each stage in the development process, providing regular feedback is vitally important in meeting expectations and accommodating changes deemed necessary by you and the developer. Giving regular updates also fosters stronger working relationships between yourself and them.
So, hiring remote developers can be an excellent way to expand your technical abilities and develop successful projects. By following these steps, you're sure to hire web developers who are perfect for your task and ensure a positive result!
Mistakes To Avoid While Hiring Dedicated Developers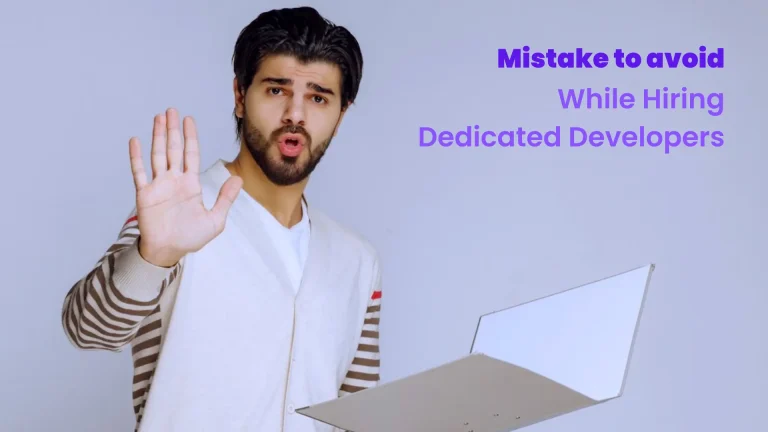 Hiring remote developers can be a cost-effective and time-efficient solution for expanding development teams. Now that companies can hire software developers in India or other remote locations, sourcing talent has never been more accessible than before.
However, some common errors when you hire dedicated remote developers could negatively affect a project's success. So, here we are going to discuss five specific mistakes to avoid when you hire dedicated remote developers.
1. Focusing Exclusively on Cost
A common mistake when hiring remote developers is placing too much emphasis on cost as the sole criterion to consider when hiring them. While cost should certainly play an important role, hiring cheap developers may lead to poor-quality work which ends up costing more in the end; finding appropriate talent with relevant skill sets that best meet the requirements for your project is more prudent.
2. Failing to Define Clear Expectations
A common error made when hiring remote developers is failing to set clear expectations regarding timelines, deliverables and communication expectations with developers – this will ensure your project runs on schedule and on budget.
3. Improper Interviews
It is essential when hiring remote developers that interviews are conducted correctly, including asking the necessary questions in order to assess a candidate's skills, experience and communication abilities; these factors are all integral parts of working remotely with remote developers.
4. Failure to Provide Adequate Support
Remote developers often face unique obstacles that in-house developers don't experience, such as working from different time zones and cultures. Therefore, providing adequate support to remote developers is paramount in order to successfully complete any given project.
5. Failing to Create an Effective Contract
Businesses often make the mistake of not creating an adequate contract when hiring remote developers, leaving open questions regarding payments terms, deliverables and timelines, as well as any provision necessary for handling disputes which arise during a project.
So, hiring dedicated remote developers can be a cost-effective and efficient solution for businesses looking to expand their software development teams. However, businesses must avoid common hiring errors, such as solely considering cost when hiring remote developers, as mentioned above, in order to find talented individuals for each project that meet those requirements.
Make sure to take proactive steps against these errors, as it can increase the chances of finding talent meeting project requirements! So before hiring remote developers, beware and take the steps needed for hiring success that can help you deliver the project as per your expectations.
Benefits of Hiring Remote Developers From India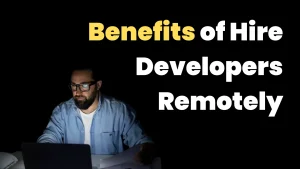 Take a look at the benefits you get when you hire remote developers from India has:
1. Large Talent Pool
India boasts an immense talent pool of developers with diverse skill sets and experiences, from mobile app, web, or software developers – ensuring there's the talent necessary for every project imaginable! A wider talent pool increases your chance of finding just the right developer to complete your task successfully.
2. Cost-Effective
The primary advantage of hiring remote developers from India is cost-effectiveness. Living expenses in the country tend to be much less costly compared to Western nations, meaning developer salaries will also tend to be cheaper – translating to reduced development costs for companies making this an appealing solution for startups and smaller enterprises alike.
3. Quality Work
Indian developers are well known for their high quality and detailed approach and possess excellent knowledge of current technology trends that makes them invaluable assets to any project. Furthermore, being fluent in English speakers means communication will not be an issue between parties involved in development projects.
4. Time Zone Advantage
India enjoys an advantage in time zone terms compared to Western nations, thus enabling Indian developers to work while their clients sleep for faster turnaround times on projects completed more quickly by companies taking advantage of this difference in hours between India and Western nations.
5. Flexibility
Hiring remote developers from India allows businesses the versatility of scaling up or scaling down their development team according to requirements, whether short-term projects or more long-term hiring arrangements are desired. This flexibility enables organizations to more efficiently use resources while saving costs in the process.
6. Access to the Latest Technologies
Indian developers benefit from having access to cutting-edge tools and technologies, helping them produce superior work. Their familiarity with the latest programming languages, frameworks and libraries makes them invaluable assets in any project they undertake.
7. Cultural Compatibility
Indian developers are easily integrated with Western countries' cultures, making working with them simpler. Their familiarity with Western business practices and understanding of work cultures means companies can work seamlessly with them without experiencing cultural issues or barriers to progress.
Final Thoughts
All in all, in 2023, businesses looking to enhance their mobile app development capabilities should hire dedicated remote developers from India as an economical way of expanding them. By teaming up with an Indian software development company expert remotely, businesses gain access to skilled expertise that will allow them to build high-quality apps tailored specifically for them – which ultimately drives growth and success for any given business. If this sounds appealing to you and takes mobile app development to new levels for you – consider employing dedicated remote developers from India now and witness the results yourself!
Also Read: