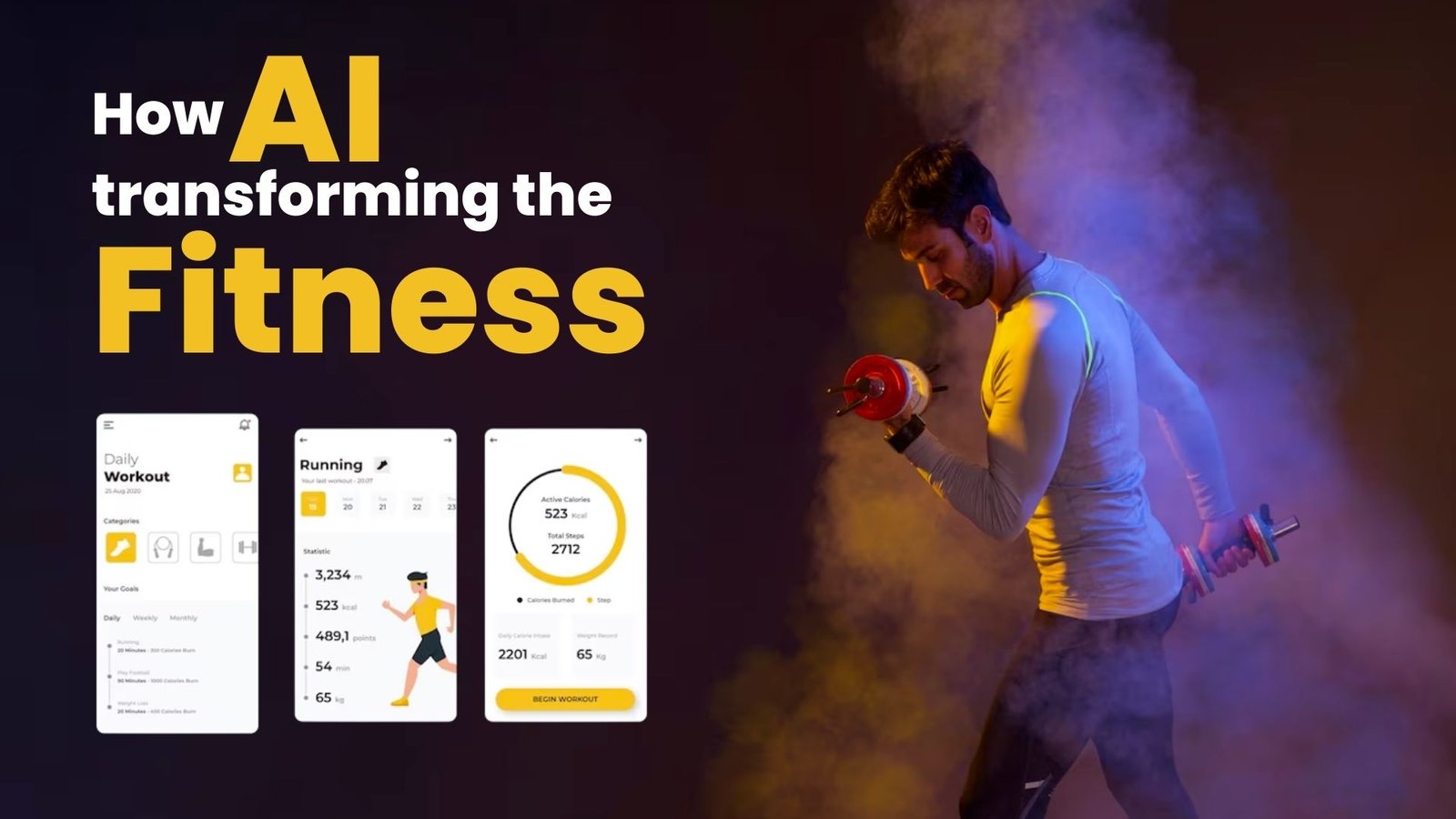 The fitness industry has taken a huge leap empowered with the coolest and most highly efficient AI tools and technologies. The world of fitness is tremendously transformed by AI in recent years, and the trend is set to continue well into the future. Fitness app development services have been at the forefront of this revolution, introducing a range of fitness applications, wearables, and solutions that have transformed the way we approach fitness and wellness. 
As the fitness app industry continues to grow, with an estimated 100.2 million active fitness users by 2024, those who invest in AI at an early stage are seeing a fantastic surge in the market. The global fitness app market size was valued at USD 1.3 billion in 2022, and experts predict it will expand at a compound annual growth rate of 17.6% from 2023 to 2030. From personalized workout plans to AI-powered virtual coaching, the advent of AI is set to revolutionize the fitness industry in more ways than we can imagine, and the potential for a strong collaboration between AI and fitness is looking increasingly likely. In this blog, we'll delve deeper into the AI-based fitness trends that will be ruling 2023, and explore the ways in which AI is transforming the fitness industry.
AI Trends Transforming Fitness Mobile App Development Industry
The fitness industry has witnessed a significant surge in growth, thanks to the incorporation of Artificial Intelligence (AI) technology. Fitness app development for startups has become a popular trend that has enabled fitness enthusiasts to track their health data and achieve their fitness goals effortlessly. Here are the top AI trends that are reshaping the fitness industry:
Fitness Revolution with Wearable Devices
The integration of AI into wearable fitness devices has revolutionized the way people monitor their health. These devices can evaluate vital health data, such as pulse rate, calorie count, diabetic signs, and weight, among others, to provide real-time feedback to users. Tech giants such as Apple, Google, and Android are exploring the development of wearables with virtual assistants that can assist consumers in making informed decisions based on their health data. Additionally, fitness equipment is also being equipped with AI to help users optimize their workouts for better results.
Personal AI Fitness Coach Transforming Workouts
AI-based workout routines are ideal for beginners who want to embark on a fitness journey. Fitness businesses are leveraging synthetic intelligence to create fitness applications that offer personalized instructions and real-time statistics to users. Some companies are incorporating sensors into workout gear to track users' movements and provide personalized directives. These sensors function best with yoga, but the technology will eventually transform other sectors.
Future of Fitness with Accessible AI-Powered Fitness Apps
Fitness apps with AI technology are gaining popularity among fitness enthusiasts who need more flexibility in their workout routine. These apps offer the convenience of working out from anywhere, anytime, without the need for a personal trainer. Users can establish their fitness goals on the app and access trainer videos to guide them through their workout sessions. Additionally, these apps are more affordable than traditional gym memberships and offer state-of-the-art features that cater to users' specific needs.
Smart Wearables For Health Conscious Generation
Smart wearables have become an integral part of modern life, and in 2023, AI is expected to make them even smarter. The sensors in these wearables will become more flexible and powerful, enabling users to monitor their health more accurately. Features like SPO2 level, heart rate monitoring, and ECG scanning will become more common in smart wearables, catering to the demands of fitness enthusiasts.
Personalized Diet Charts
The importance of nutrition in achieving fitness goals cannot be overstated. Research shows that a balanced diet is even more critical to good health than exercise. This is why many of the best home training applications now offer customized diet plans to help users achieve their desired results.
Fitness app development services have leveraged the power of AI to create intelligent tools like FitGenie and HealthifyMe that offer tailored diet charts to users. FitGenie, for instance, is an intelligent calorie counter that uses a machine learning system to make suggestions for dietary planning. It helps those who are on a diet to reach their desired weight or fitness goals.
Using scientific data, human life coaches' experiences, body composition figures, adherence to the diet plan, weight change rates, hunger, tiredness, and other specific indicators, the system maps and predicts the progress of an individual and makes weekly changes based on the collected information.
HealthifyMe, on the other hand, is a popular fitness and nutrition application in India that provides personalized recommendations for diets through its artificial intelligence virtual assistant "Ria." The bot analyzes user data and other health indicators to provide tailored nutrition and fitness advice in up to ten different languages.
The software also integrates data from major physical fitness trackers to develop algorithms that are freely available to its users. With personalized diet charts, AI-powered fitness applications have revolutionized the fitness industry, empowering users to make informed decisions about their nutrition and achieve their desired fitness goals.
Rise of Smart Home Gyms
The pandemic has accelerated the shift towards home fitness equipment, and in 2023, we are witnessing the rise of "smart" home gyms. AI will enable users to access connected versions of high-end gym equipment such as treadmills and exercise bikes, and participate in live fitness classes. Users can engage in live interactions during fitness sessions, making the experience more interactive and engaging.
AI in Mindfulness and Stress Reduction
Mental and emotional well-being has become a crucial aspect of overall health, especially in light of the pandemic. AI-driven apps offer tech-driven solutions to help people take care of their mental health. These apps encourage users to embrace a stress-free and mindful lifestyle, and offer features such as meditation and breathing exercises to help users achieve inner peace and calmness.
Top Benefits With AI-Powered Fitness Development Apps
The fitness industry has been rapidly evolving over the past few years, with technology taking the lead in providing personalized and convenient solutions to users. AI-powered fitness applications have been a game-changer, with the global market set to surpass $23.98 Billion by 2026.
One of the main drivers of growth in the AI fitness app market has been chatbots. These bots, equipped with AI, offer tailored recommendations to users, making fitness advice more affordable and accessible than ever before. Using natural language processing, chatbots can provide personalized guidance, answer queries, and offer suggestions instantly. Here are some of the benefits: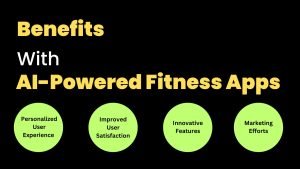 Personalized User Experience: 
With the power of AI and real-time data collection from wearable devices, you can offer hyper-personalization to your users. By providing highly curated suggestions, you can increase customer retention and attract potential clients.
Improved User Satisfaction: 
AI in fitness applications makes exercising more exciting and enjoyable by offering real-time information and expert recommendations. Personalized training and food advice can help users reach their fitness goals faster, leading to higher satisfaction rates.
Innovative Features: 
Harnessing the capabilities of AI in your fitness app can offer a range of brilliant features that can uplevel your users' exercise experience. This can attract additional users, including those previously using another app, and increase your gym's earnings.
Marketing Efforts: 
AI-powered fitness programs gather valuable data that can help you know much about your active and inactive users. This data can be used for segmentation and targeting, making your marketing efforts more effective.
Conclusion
AI-powered fitness apps provide a data-driven approach to fitness, helping organisations make more informed decisions to increase their sales and improve their marketing efforts. If you're a startup looking to develop a fitness app with AI capabilities, you need an expert partner who can provide you with the best mobile app solutions. Whitelotus Corporation offers top-notch fitness app development services to bring your idea to life and help you make a difference in people's lives. Contact us today for a consultation and take the first step towards transforming your  fitness startup with AI-powered solutions.
Whitelotus Corporation is competent web and Mobile app development services provider, since 2013. We have a dedicated team of developers who are expert in handling client requirements and timely coordinate. Our Excellent developers are proficient and stay up to date with new technologies, Frameworks, libraries and programming languages.
Also Read: