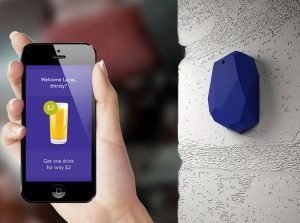 It is learned day by day that technology share great relationship with the businesses operating worldwide. They go hand in hand meeting each other's requirements. Let us learn about this modern technology on how it helps the business to remain engaged with their customers in a clever way.
What is iBeacon?
A modern technology developed by Apple in 2013,which implements Bluetooth low-energy (BLE) wireless technology to create a different way of providing location-based information and services to iPhones and other iOS devices. iBeacon arrived in iOS7 operating system and devices like iPhone 4s or later, iPad (third generation and onwards) iPad mini and iPod touch (fifth generation or later). Not only iOS, this techonology is even compatible on Android OS 2.3 and above.
With this technology set up, shops could send notifications about their special offers to the customers passing by using third party low cost Bluetooth enabled hardware called 'Beacon'.
What these beacons are?
They are wireless, small and low energy bluetooth enabled hardware operated with inbuilt battery can be mounted on a table or attached to the wall of your shop or on the doors. These devices transmit tiny bluetooth signals to the smartphone devices available in its proximity. Smartphones that are in range are able to 'hear' these signals and estimate their location very precisely, as well as to communicate with the beacon to exchange data and information.Usually the range for the transmission of the beacons is around 70-80ft. Apple does not manufacture beacons itself; they come from third party manufacturers like Estimote, Swirl and GPshopper.
How do they work?
As mentioned above, these beacons transmitbluetooth signals to mobile devices. So your smartphone having iBeacon app of a corresponding business installed will listen out for the signal transmitted by these beacons and respond accordingly when the phone comes into range.The beacons themselves won't do much unless you have the corresponding app downloaded to your device having bluetooth and internet on. The integration is very simple and can be done using the API provided by the manufactures of these beacons.
For example, you pass by a clothing store which has attached beacon on their glass door. Assuming that you have installed their mobile app on your smartphone and have Bluetooth on, your app will receive notification message as soon as you pass by in its range stating 'Enjoy 30% discount on any Jeans'. On a visit to a museum, the museum's app would provide information about the closest display, using your distance from beacons placed near exhibits to work out your position.
This video of Estimote beacon will show you how it works:
iBeacon app development has evolved and seems popping out everywhere specially for the restaurants, retail shops, clothing stores, at events, seminar halls, exhibitions, hospitals, museums, airport, educational institutions and many other places to name.
We at Whitelotus Corporation have successfully developed iBeaconenabled apps for our clients on iOS and Android platforms.
Contact us to request a free demo and or discuss your app idea using iBeacon for your business, drop us email to contact@whitelotuscorporation.com